Are you looking to dress up your little one in a saree but feel intimidated by the draping process? Don't worry, we're here to help! 
Draping a saree for kids can be an incredibly rewarding experience. Not only does it allow you to introduce your child to the vibrant culture of India, but it also allows you to bond with them and create lasting memories. However, draping a saree for your kid can be challenging and tricky, but with some patience and practice, you can get the perfect look in no time.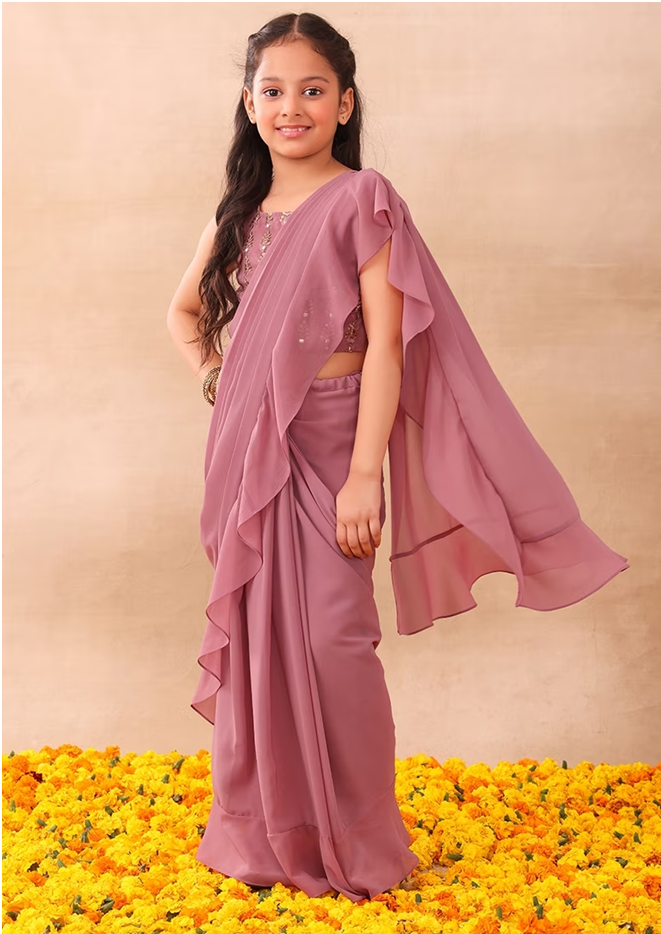 Here's a simplified yet detailed step-by-step guide on how to drape a saree for a kid:
Step 1: Choose a saree that is lightweight and easy to drape. Ensure its length is suitable for your child's height and that the width is appropriate for her age, else it might restrict movement.
Step 2: Make your child wear a comfortable blouse and petticoat or underskirt. Ensure that the petticoat is tied securely at the waist.
Step 3: Start by tucking one end of the saree into the petticoat at the center of the waist.
Step 4: Wrap the saree around your child's waist and bring it to the front. Tuck it into the petticoat on the left side of the waist.
Step 5: Take the other end of the saree and make pleats from the left-hand side of the waist. Make about 4 to 5 pleats, and tuck them neatly into the petticoat, facing right.
Step 6: Now, wrap the remaining saree around your child's back. And bring it to the front over the left shoulder.
Step 7: Make pleats from the end of the saree over the left shoulder and secure them with a safety pin.
Step 8: Adjust the pleats and saree borders as needed. And voila, you are done!
Here are 4 tips and tricks for draping a saree for kids:
Choose a lightweight saree:Kids can get uncomfortable wearing heavy or stiff sarees for longer durations. Therefore, opt for a breathable and soft saree fabric.
Accessorize: Adding some accessories like bangles, earrings, dainty pendants, and a bindi can elevate your child's outfit and make her feel special. You can also add a small hair accessory like a flower or a clip to add extra charm.
Use safety pins:To keep the saree secure, use safety pins to hold it in place but keep them hidden well and be careful not to prick your child.
Be patient and have fun:Draping a saree for kids can be time-consuming, do not rush through it.
If you are still sceptical about draping a saree for your child, then fret not because we have a surprise for you.
The ingenious Pre-draped Sareesfor kids!!
Pre-draped saree, also known as a pre-stitched saree or ready-to-wear saree for kids is an excellent alternative to traditional sarees. They look exactly the same but take less than a minute to style. As the name suggests, ready-to-wear sarees for kids have stitched pallu and pleats- so no hassle of draping. Also, many designer pre-stitched sarees for kids come with attached blouses, saving you the trouble of finding the perfect blouse for your little one.
How to wear or drape a ready-to-wear saree for kids?
Step 1: Help your child wear the saree like a skirt
Step 2: Adjust the pre-stitched saree pleats
Step 3: Place the pallu over your child's shoulder
Step 4: Sit back and relax while your child twirls around in the excitement of wearing a saree! Also, don't forget to click lots of pictures!
Frequently Asked Questions
1. Where can I find ready-to-wear sarees for kids online?
Ans: Online ethnic wear storeIndya has a gorgeous and exclusive selection of ethnic kids wear. From kids lehengas, sharara sets for girls, and ethnic jumpsuits to pre-stitched sarees for kids, Indya's Miss Indya Girls collection has everything!
2. What are some trending Indian dresses for kids?
Ans: Top trending festive and party wear for kids are tiered lehengas for girls, sharara sets, floral dresses with belts, ruffled pre-stitched sarees for girls, printed kurta and pants sets, and ethnic printed jumpsuits.